12 Festive Tips For Social Media Marketing At Christmas
Nov 23, 2021
The Christmas and New Year period can be a very busy time of year for many businesses and it's easy for social channels to get overlooked. Follow these 12 tips to optimise your social channels over the festive period, drive sales and engagement and stand out from the competition.
1. Content Planning & Scheduling
Just like planning what you are going to eat for Christmas dinner, or what presents you are going to buy, your social media activities need to be planned in advance. It is never too early to plan and you'll avoid rushing around at this busy time of year, trying to create content and then publishing it all at once. There is nothing worse than seeing neglected feeds and lost opportunities for engaging with your audience.
Use a content calendar to plan the content you will be posting and to which social networks, over Christmas and New Year.
You don't need anything fancy – something simple like my
content planning spreadsheet
is all you need. Otherwise it can become time consuming, keeping your calendar up to date.
S

chedule content

in advance so you can free up time for other activities. Use tools like

Facebook Creator Studio (

free scheduling tool for Facebook and Instagram),

HootSuite or Later.
Scheduling a couple of posts a week will keep your social accounts active and give fans the content they are looking for.

2. Opening Hours
Whether your business is open longer or for less over the holiday period, publish a post with opening hours and pin it to the top of your profile. Include a link to either a web page with store opening times, or if you are a service organisation, to the help section on your website, so your customers can self-serve.
You can even go as far as changing the link in your Twitter or Instagram bio or the About page on Facebook, to go to a web page with revised opening hours.

3. Add Festive Cheer To Cover And Profile Pics
Get your fans in the festive mood and give your profile and cover images a seasonal theme. For example, add snowflakes, Santa hats etc. Make sure the image is still bespoke to your brand, has the same look and feel and avoid stock imagery, so that in the newsfeed your customers still identify it as your account. Remember to update or revert back to your normal images in the New Year.

4. Trending Hashtags
Use seasonal hashtags to stand out in someone's social feed and reach new audiences. Choose hashtags that your audience would search for. Try using some of these in your posts: #ChristmasGifting #ChristmasGiftIdea #ChristmasGiftGuide #ChristmasGiftsForHer #ChristmasShop #ChristmasShoppingTime #ChristmasCountdown #ShopSmallChristmas #GettingFestive #WishList

5. Run A Competition
Competitions are a great way to drive lots of engagement and you can gain new followers and increase conversions if content is engaging enough. Festive themed competitions you can run include:
One off competition to win a prize related to your business. Like, share, comment, follow, answer a question, provide a caption to a photo etc. to enter

Give away a prize every day during the 12 days of Christmas. You can start off with a small prize such as a voucher or a discount code and build up to a much bigger prize, as the days go on

Advent calendar competition, each day from 1st -24th December to win a prize. The advantage being that people come back day after day, looking for that chance to win a prize. Include hashtags such as #Day1 #Day14 etc.
Christmas is an important time for giving, so in the copy of the competition you can say that for every competition entry you will make a small donation to your chosen charity. If you do this, afterwards remember to tell your audience how much money was raised
Before running your competition make sure to check the rules and regulations surrounding competitions, as some have restrictions on what you can do. Facebook now has a good
contest app
to help you optimise your competitions and expand your reach. Include T&Cs, announce your winners and keep a list of past winners so you don't end up giving the prizes to the same people and this will help you avoid serial competition enterers!
Try these ways to engage with your fans over the festive period:
Run a festive poll – most social networks have poll functionality which allow your fans to vote on a certain topic. Keep it fun, festive and as far as possible, related to your brand. For example, ask your fans: What's in your home this year: Real Christmas Tree or Artificial Christmas Tree?
Share, share, share – engage with user-generated content, by tagging the user, including relevant hashtags and sharing on your social networks. This may send other users your way and it is a great way of showcasing your brand advocates. Everyone loves to be mentioned!

Charity – At Christmas time it is important for businesses to show their generous side. Show what you are doing as suggested above in the competition section, showcase any charity activity you have done during the year or get involved in any charity related hashtags such #GivingTuesday #LocalCharityDay #ChristmasJumperDay
Other ideas you could try include going live to run through your best sellers, posting gift guides and doubling up with email campaigns.


7. Shout About Discounts And Special Offers
You can offer festive discounts and offers to encourage both online and offline sales. These can be done in a single post, or they can be exclusively available in the 'stories' section on Instagram, SnaptChat and Facebook. It' an idea to tailor offers for each social network so you can monitor conversion rates.
Don't forget to make it easy for people to buy from you. Set up your Instagram shop. Tag your products in posts, reels, stories.
8. Schedule A Christmas Day Message
So many people will be receiving new gadgets and smartphones on Christmas day and they will be logging into social accounts to wish their friends and family 'Merry Christmas'. Depending on your business, you can send out a 'Merry Christmas' message to show you care.
These can be scheduled in advance so you don't have to drag yourself away from your turkey dinner and mince pies! However, if you are a service-based organisation it is not recommended to do, as it may indicate that you are open for business and customers may be trying to contact you and receiving no response.

9. Customer Service
If sales are busy, then so will the number of people asking questions or making that dreaded complaint. It is vital to ensure you are fully resourced in terms of people, time and technology to respond to customer service queries that come in via your social channels. Social media management platforms such as
HootSuite
and
Buffer
c

an help with the response process.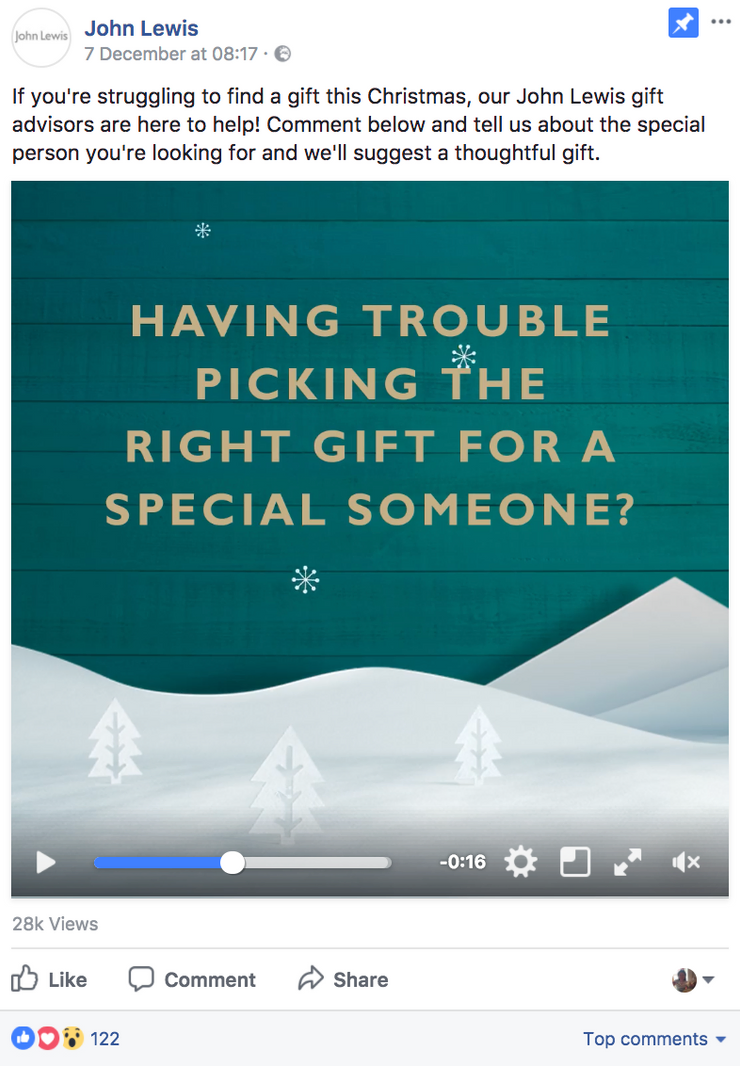 10. Community Building
Quiet period between Christmas and New Year? Then, work on your community building. Follow people who have liked your posts in the past, invite people to follow you who have liked your Facebook posts and ensure you are following your main partners and key influencers etc. This organic activity will undoubtedly generate new followers for your accounts.

11. Social Media Advertising
Increase traffic to your website by leveraging social media ads. Ads can drive new and lookalike customers straight to your product as soon as they engage with your ad.
Review your 'always on' social media advertising and make sure it is suitable or if it is worthwhile to be going out over the holiday period. Have a look at performance from last year and you might decide to pause it until the New Year. Don't forget to update the content and imagery for the festive season.
In line with wider risk assessment activities, run your scenario planning and prepare for any incidents or issues that may arise during the holiday period. For example, bad weather affecting deliveries. Prepare draft posts and graphics, so they can be edited easily and issued as needed.
Good luck with all your festive social media activity and Happy Holidays from Summit Consulting!
Kerry👩🏻‍💻
3 Ways I Can Help You Right Now!
1. Take an
online course
and start improving your online presence today!
Join My Mailing List
Join my mailing list for no nonsense digital marketing tips, find out about new services and get special discounts.
Yes! Sign Me Up